Peru (12 days): Hiking, Evangelism, Discipleship
May 31 2019 - Jun 11 2019
PE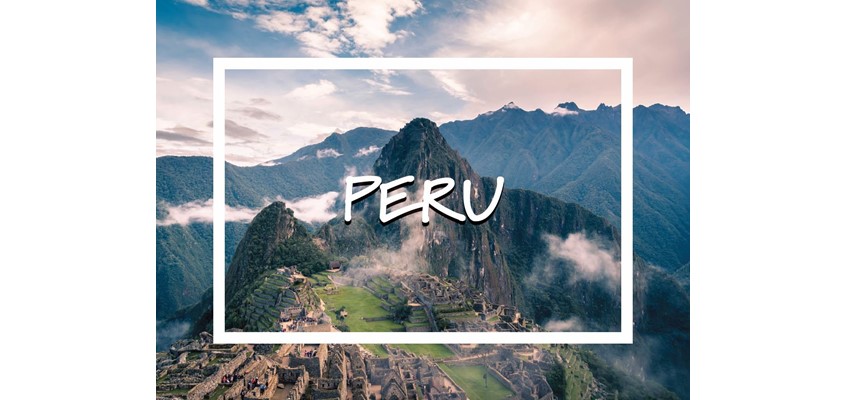 Opportunity Overview
About this Trip:
As a member of this trip, you will have the opportunity to learn about and practice evangelism and discipleship in a practical way. 
David (better known as Daudi) and Cathlene Strong
have served in 
Peru
 as missionaries for many years and will host you and your fellow team members. Although your trip will focus on evangelism and discipleship among the team and people hiking toward Machu Picchu, you will also be involved in local, long-term ministries in and around Cusco. Be prepared to not only be challenged physically, but to experience God in amazing ways while you become a part of what He is doing in Peru!
Summary:
Cost: 
$850 + airfare
Dates: 
May 31 – June 11, 2019
Team Size:
15 people max
Team Leader: 
Joe Rasbaugh
About the Team Leader:
Joe lives in Bronson, Michigan and is a mobilizer with World Gospel Mission. Prior to his time with WGM, he spent a year serving as the manager of a youth camp in New Zealand. Joe loves to meet with people and help them live differently as they seek to connect their passions with what God is doing around the world. He also is a huge fan of coffee, hiking, and anything outdoors. 
Schedule:
Day 1:
 Depart for Cusco, Peru. Flight schedule will determine activities.
Day 2:
 Go to church in the morning. Follow church with a ministry project in the afternoon. Possibly have a "picnic" with team and some people from church. Play volleyball/soccer.
Day 3:
 Travel to Mollepata (town near the trailhead). Possibly stop by a school for underprivileged kids to do a project. Stay the night in a hostel/hotel.
Day 4:
 Begin the hike early in the morning.
Day 5:
 Hike.
Day 6:
 Hike. Hot springs in evening.
Day 7:
 Hike; possible ziplining; finish day at Machu Picchu town.
Day 8:
 Machu Picchu. Be at gate at 5 a.m. to begin hike. Climb one of the two mountains. Head back to Cusco by train.
Day 9:
 Rest. Church service with the group, debrief experience. Cultural buffet for dinner.
Day 10:
 Easy morning in Cusco. Begin travel home, arriving back the morning of June 11.
*This schedule is tentative and could possibly change.
Total Trip Cost:
The cost is $850 plus airfare. The final total varies, depending on team size and flight costs which vary depending on your departing airport location. Your final trip cost will be given to you after flights are booked. Flights are expected to be around $1,300. All funds will be raised through an individual account you will receive with WGM. WGM has its own "Go Fund Me" platform for you to raise money with no fee. You will be provided with a detailed list of those who give to your trip.

Included in the Trip Cost:
International airfare
Housing and food (3 meals a day)
Transportation while in Peru
Hike registration
Hike guide and porters to help carry supplies and make meals
International travel insurance (primary medical, liability, travel assistance, etc.)
Team shirt and WGM Journal
Administrative costs
Costs not included in the trip price are: meals while in airports during travel days when traveling to and from the U.S., any fees associated with baggage or immunizations, passport, personal shopping money and incidentals such as snacks, additional beverages, phone calls, and other personal items. Costs for personal hiking supplies not included in the trip cost.

Payment Schedule:
Upon Acceptance—$75 to hold spot (applied to trip cost)
February 28, 2019—1/3 of cost
March 31, 2019—2/3 of cost
April 30, 2019—Final Balance
 
Application Process:
All team members must complete a set of application items provided by WGM that includes:
Application (with deposit)
Health form
WGM travel release
Background check (for those age 18 and older)
Spiritual leader reference
Documents needed prior to travel:
Passport that will not expire within six months of return travel date.
A visa is not required for travel to Peru.
Expectations:
I understand that this mission trip starts the day that I apply. As part of a WGM team, I commit to reading all material and emails pertaining to the trip. I also commit to attending virtual meetings with my team leader and fellow team members, recognizing that these are vital to maximizing the effectiveness of the team. For this team, these virtual meetings will start at least five months prior to the trip and will happen five–eight times. These virtual meetings will focus on spiritual preparation, developing team unity, and preparing for the trip. I also understand that I will need to provide the funds for the trip, either through fundraising or personal contributions.