Cambodia (13 days): ESL, Social Justice, Sports
WHEN
Jun 13 2019 - Jun 25 2019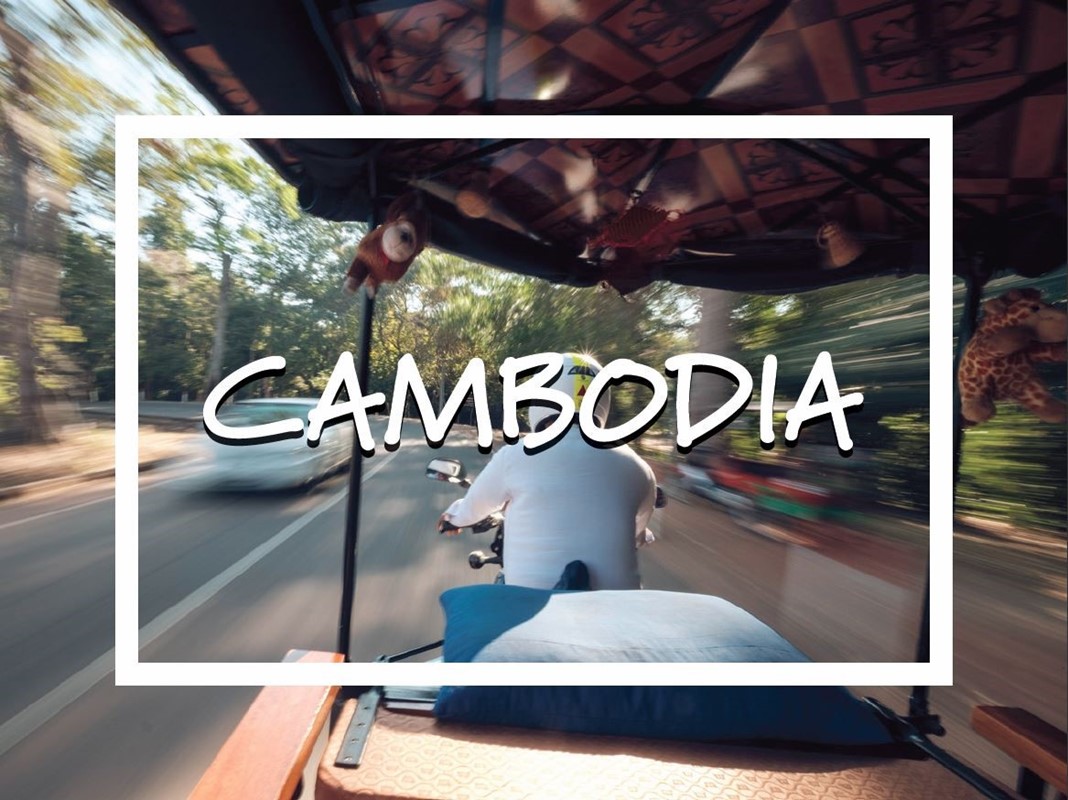 About this Trip:
This trip is designed to expose you to many different types of long-term ministries in 
Cambodia.
 Your team will be hosted by WGM missionaries 
Titus and Jewel Romdenh
. After arriving in Phnom Penh and learning about the culture and history of Cambodia, you'll travel to several different provinces and participate in various ministries, such as sports, human trafficking alleviation, university student fellowship, English teaching, children's ministries, orphanage outreach, and more. In doing so, you'll network with other organizations and learn how they are doing ministry in Cambodia. Prepare to experience what God is already doing in Cambodia and to be challenged to see how you can return to serve, using your passions and gifts.
Trip Summary:
Cost: 
$1,295  + airfare
Dates: 
June 13 – 25, 2019
Team Size:
10 people max
Team Leaders: 
Alex & Bebe Gergely
About the Team Leaders:
Alex:
 I'm a senior at Indiana Wesleyan University, majoring in English with minors in writing and Christian ministries. I'm also from Ohio, and I met Bebe when my dad took a position as the worship leader at her home church. Along with hanging out with Bebe, I enjoy reading, going on runs, playing video games, making espresso, and reading way too much Wikipedia. I love to travel, fly, and learn about new cultures, so I can't wait for Cambodia and the opportunity to do ministry with you all.
Bebe:
 I have been serving as the volunteer coordinator for WGM for one year now. I grew up in Ohio and moved to Indiana when I began studying at Indiana Wesleyan University in the fall of 2014. As most freshmen do, I changed my major my freshman year after I felt a deep calling from the Lord telling me to pursue a major in intercultural studies. After three years, I graduated from IWU with an intercultural studies major and theology minor. Aside from work, I love to be outdoors, bake and cook, drink coffee, travel and meet new people, watch movies, and be with my family and friends.
Daily Schedule:
Day 1
—Arrive in Cambodia
Day 2—
Introduction and orientation to Cambodian culture, people, history; visiting historical sites
Day 3—
Travel to Siem Reap Province (about 5–6 hours from Phnom Penh)
Day 4—
Siem Reap Province: church, sports ministry, night market
Day 5—
Siem Reap Province: ministry with human trafficking organization, teaching English
Day 6—
Cultural day, visiting Angkor Wat Temple/Ta Prohm Temple/Bayon Temple
Day 7—
Travel back to Phnom Penh
Day 8—
Phnom Penh ministry: sports and women's ministry
Day 9—
Travel to Kompong Cham Province: orphanage and sports ministries
Day 10—
Kompong Cham Province: sports ministry, travel back to Phnom Penh
Day 11—
Church, college student fellowship
Day 12—
Ministry and team debrief
Day 13—
Leave for the U.S.
*This schedule is tentative and could possibly change.

Total Trip Cost:
The cost is $1,295 plus airfare. The final total varies, depending on team size and flight costs that vary depending on your departing airport location. Your final trip cost will be given to you after flights are booked. Flights are expected to be around $1,400. All funds will be raised through an individual account you will receive with WGM. WGM has its own "Go Fund Me" platform for you to raise money with no fee. You will be provided with a detailed list of those who give to your trip. 

Included in the Trip Cost:
International airfare
Housing and food (3 meals a day)
Transportation while in Cambodia
Ministry supplies
International travel insurance (primary medical, liability, travel assistance, etc.)
Team shirt and WGM Journal
Administrative costs
Costs not included in the trip price are: meals while in airports during travel days when traveling to and from the U.S., any fees associated with baggage or immunizations, passport, personal shopping money and incidentals such as snacks, additional beverages, phone calls, and other personal items.

Payment Schedule:
Upon Acceptance—$75 to hold spot (applied to trip cost)
March 13, 2019—1/3 of cost
April 13, 2019—2/3 of cost
May 13, 2019—Final Balance

Application Process:
All team members must complete a set of application items provided by WGM that includes:
Application (with deposit)
Health form
WGM travel release
Background check (for those age 18 and older)
Spiritual leader reference
Documents needed prior to travel:
Passport that will not expire within six months of return travel date.
A visa is required for travel to Cambodia. Your team leader will assist you in applying for this prior to your trip.
Expectations:
I understand that this mission trip starts the day that I apply. As part of a WGM team, I commit to reading all material and emails pertaining to the trip. I also commit to attending virtual meetings with my team leader and fellow team members, recognizing that these are vital to maximizing the effectiveness of the team. For this team, these virtual meetings will start at least five months prior to the trip and will happen five–eight times. These virtual meetings will focus on spiritual preparation, developing team unity, and preparing for the trip. I also understand that I will need to provide the funds for the trip, either through fundraising or personal contributions.
Contact Info
Bebe Gergely
Stories
No stories have been posted for this opportunity yet.